notAmos Performing Editions
1 Lansdown Place East, Bath
BA1 5ET, UK
+44 (0) 1225 316145
Email

Performing editions of pre‑classical music
with full preview/playback and instant download

Alvise Balbi

(c.1570 - c.1625)


Homo quidam descendebat

(S.S.A.A.T.T.B.B.)
Full score (PDF), €0.00 for unlimited copies Download this item
Printable cover page (PDF), €0.00 for unlimited copies Download this item

Please click here to report any problem obtaining a PDF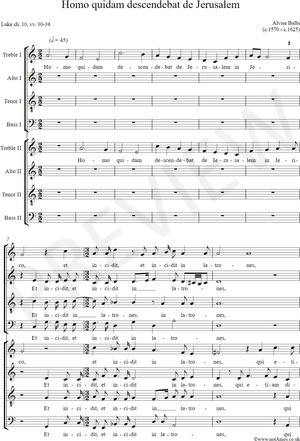 Page 1 of 6
This work, Balbi : Homo quidam descendebat : scoreid 147664
, as published by
notAmos Performing Editions
, is licensed under a
Creative Commons Attribution-ShareAlike 4.0 International License
. All relevant attributions should state its URL as
https://www.notamos.co.uk/detail.php?scoreid=147664
. Permissions beyond the scope of this licence may be available at
https://www.notamos.co.uk/index.php?sheet=about
.
Setting of the parable of the good Samaritan from Ecclesiastici Concentus, Venice, 1606.
Lyrics: Luke ch. 10, vv. 30-34

Homo quidam descendebat de Jerusalem in Jerico, et incidit in latrones, qui etiam despoliaverunt eum: et plagis impositis abierunt semivivo relicto.
Accidit autem ut sacerdos quidam descenderet eadem via: et viso illo præterivit.
Similiter et Levita, cum esset secus locum, et videret eum, pertransiit.
Samaritanus autem quidam iter faciens, venit secus eum: et videns eum, misericordia motus est.
Et appropians alligavit vulnera ejus, infundens oleum et vinum.

A certain man went down from Jerusalem to Jericho, and fell among thieves, which stripped him of his raiment, and wounded him, and departed, leaving him half dead.
And by chance there came down a certain priest that way: and when he saw him, he passed by on the other side.
And likewise a Levite, when he was at the place, came and looked on him, and passed by on the other side.
But a certain Samaritan, as he journeyed, came where he was: and when he saw him, he had compassion on him,
And went to him, and bound up his wounds, pouring in oil and wine.