notAmos Performing Editions
1 Lansdown Place East, Bath
BA1 5ET, UK
+44 (0) 1225 316145
Email

Performing editions of pre‑classical music
with full preview/playback and instant download

Guglielmo Gonzaga, Duke of Mantua

(1538 - 1587)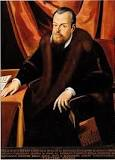 Videntes stellam magi

(S.A.A.T.T. (or A.T.T.B.B.))
Full score (PDF), €0.00 for unlimited copies Download this item
Transposed score (PDF), €0.00 for unlimited copies Download this item
Printable cover page (PDF), €0.00 for unlimited copies Download this item

Please click here to report any problem obtaining a PDF
Page 1 of 6
This work, Gonzaga, Duke of Mantua : Videntes stellam magi : scoreid 147759
, as published by
notAmos Performing Editions
, is licensed under a
Creative Commons Attribution-ShareAlike 4.0 International License
. All relevant attributions should state its URL as
https://www.notamos.co.uk/detail.php?scoreid=147759
. Permissions beyond the scope of this licence may be available at
https://www.notamos.co.uk/index.php?sheet=about
.
Epiphany motet from Sacræ Cantiones quinque vocum, Venice, 1583. This edition is offered at published pitch for S.A.A.T.T. or transposed down a fourth for A.T.T.B.B.
Lyrics: Matthew 2:10,11

Videntes stellam magi gavisi sunt gaudio magno.
Et intrantes domum invenerunt Dominum,
et obtulerunt ei munera aurum, thus et myrrham.

When the Magi saw the star, they rejoiced with exceeding great joy.
And when they were come into the house, they saw the Lord,
and presented unto him gifts of gold, frankincense and myrrh.