notAmos Performing Editions
1 Lansdown Place East, Bath
BA1 5ET, UK
+44 (0) 1225 316145
Email

Performing editions of pre‑classical music
with full preview/playback and instant download

Hans Leo Hassler

(1564 - 1612)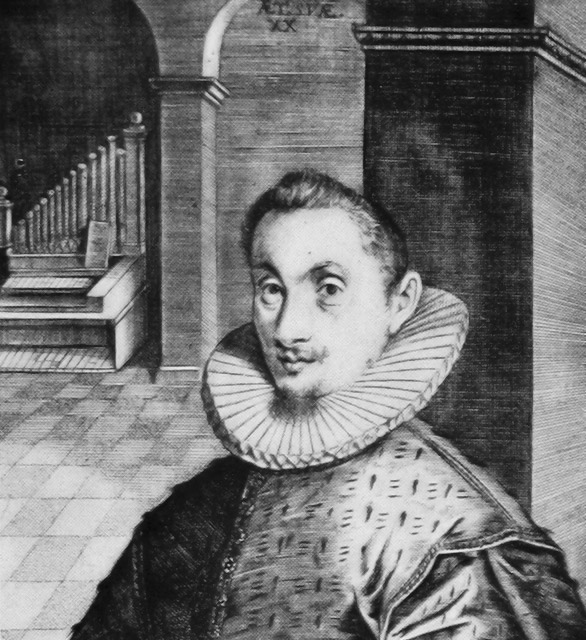 Usquequo Domine

(S.S.A.T.T.B. (or S.A.A.T.T.B.))
Full score (PDF), €0.00 for unlimited copies Download this item
Transposed score (PDF), €0.00 for unlimited copies Download this item
Printable cover page (PDF), €0.00 for unlimited copies Download this item

Please click here to report any problem obtaining a PDF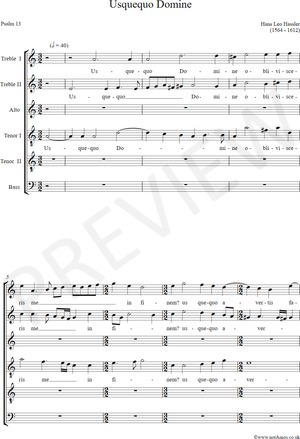 Page 1 of 11
This work, Hassler : Usquequo Domine : scoreid 147774
, as published by
notAmos Performing Editions
, is licensed under a
Creative Commons Attribution-ShareAlike 4.0 International License
. All relevant attributions should state its URL as
https://www.notamos.co.uk/detail.php?scoreid=147774
. Permissions beyond the scope of this licence may be available at
https://www.notamos.co.uk/index.php?sheet=about
.
Edition prepared from Sacri concentus, 1601. This edition is offered at the published pitch (high chiavette) for S.S.A.T.T.B. or transposed down a fourth for S.A.A.T.T.B.
Lyrics: Psalm 13

Usquequo, Domine, oblivisceris me in finem: usquequo avertis faciem tuam a me?
Quamdiu ponam consilia in anima mea, dolorem in corde meo per diem: usquequo exaltabitur inimicus meus super me?
Respice, et exaudi me, Domine Deus meus: illumina oculos meos, ne umquam obdormiam in morte.
Nequando dicat inimicus meus, prævalui adversus eum: qui tribulant me exultabunt si motus fuero.
Ego autem in misericordia tua speravi: exultabit cor meum in salutari tuo.
Cantabo Domino qui bona tribuit mihi: et psallam nomini Domini altissimi.

How long wilt thou forget me, O Lord, for ever: how long wilt thou hide thy face from me?
How long shall I seek counsel in my soul, and be so vexed in my heart: how long shall mine enemies triumph over me?
Consider, and hear me, O Lord my God: lighten mine eyes, that I sleep not in death.
Lest mine enemy say, I have prevailed against him: for if I be cast down, they that trouble me will rejoice at it.
But my trust is in thy mercy: and my heart is joyful in thy salvation.
I will sing of the Lord, because he hath dealt so lovingly with me: yea, I will praise the Name of the Lord most Highest.