notAmos Performing Editions
1 Lansdown Place East, Bath
BA1 5ET, UK
+44 (0) 1225 316145
Email

Performing editions of pre‑classical music
with full preview/playback and instant download

Full score (PDF), €0.00 for unlimited copies Download this item
Transposed score (PDF), €0.00 for unlimited copies Download this item
Printable cover page (PDF), €0.00 for unlimited copies Download this item

Please click here to report any problem obtaining a PDF

Click on the illustration to display a larger version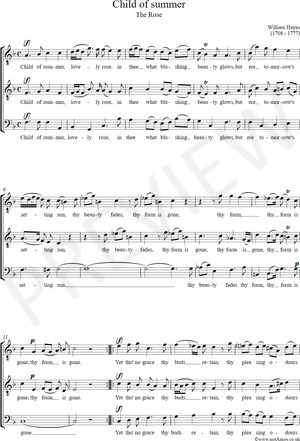 Page 1 of 3
This work, Hayes : Child of summer : scoreid 147914
, as published by
notAmos Performing Editions
, is licensed under a
Creative Commons Attribution-ShareAlike 4.0 International License
. All relevant attributions should state its URL as
https://www.notamos.co.uk/detail.php?scoreid=147914
. Permissions beyond the scope of this licence may be available at
https://www.notamos.co.uk/index.php?sheet=about
.
From Hayes' Catches, Canons and Glees, book IV, 1785. Edition offered at original pitch for T.T.B. and also for S.S.A.

The text was very popular when it first appeared, but was always anonymous. A contemporary view was that: "This agreeable little piece is inserted in a Collection of Miscellanies, published under the name of Anna Williams, a blind lady; containing some poems written by herself, and many more by Dr. Johnson, and by Mrs Thrale, Percy, Goldsmith and others, whom the Doctor, from motives of charity, invited to contribute to it. The generosity of one of these gentlemen is rather remarkable: he very modestly suffered Mrs Williams to take the credit of several things which he published a dozen times before under his own name." Thus anonymity is owing to an author's generosity towards an eleemosynary publication. Or perhaps he merely wished to disassociate himself from the phrase "mental fragrance". Because of the mawkish second verse, the poem rapidly lost its status as a much anthologised piece for adults, to an improving piece for children, and thence to use as a subject fit to be embroidered on samplers.
Lyrics: Anon

Child of summer, lovely rose,
In thee what blushing beauty glows;
But ere tomorrow's setting sun,
Thy beauty fades, thy form is gone.
Yet though no grace thy buds retain,
Thy pleasing odours still remain.

Clora's smile and thine, sweet flow'r,
Shall bloom and wither in an hour;
But mental fragrance still will last,
When youth and youthful charms are past.
Ye fair, betimes the moral prize,
'Tis lasting beauty to be wise.