notAmos Performing Editions
1 Lansdown Place East, Bath
BA1 5ET, UK
+44 (0) 1225 316145
Email

Performing editions of pre‑classical music
with full preview/playback and instant download

Balduin Hoyoul

(c.1548 - 1594)


Magnificat ad imitationem Susanne un jour

(S.A.T.B. (or A.T.T.B.))
Full score (PDF), €0.00 for unlimited copies Download this item
Transposed score (PDF), €0.00 for unlimited copies Download this item
Printable cover page (PDF), €0.00 for unlimited copies Download this item

Please click here to report any problem obtaining a PDF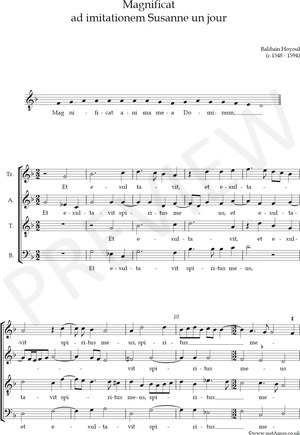 Page 1 of 9
This work, Hoyoul : Magnificat ad imitationem Susanne un jour : scoreid 148067
, as published by
notAmos Performing Editions
, is licensed under a
Creative Commons Attribution-ShareAlike 4.0 International License
. All relevant attributions should state its URL as
https://www.notamos.co.uk/detail.php?scoreid=148067
. Permissions beyond the scope of this licence may be available at
https://www.notamos.co.uk/index.php?sheet=about
.
Hoyoul's alternatim Magnificat ("Ad imitationem Sussan Uniur") uses material from Lassus's setting of the chanson. This edition is offered at original pitch (high chiavette) for S.A.T.B. or transposed down a fourth for A.T.T.B.

For the sake of illustration this edition uses the tonus primus as the reciting tone for the odd verses; other tones are also suitable (esp. tonus peregrinus).
Lyrics: Anon

Magnificat anima mea Dominum;
Et exultavit spiritus meus in Deo salutari meo,
Quia respexit humilitatem ancillae suae;
ecce enim ex hoc beatam me dicent omnes generationes.
Quia fecit mihi magna qui potens est, et sanctum nomen ejus,
Et misericordia ejus a progenie in progenies timentibus eum.
Fecit potentiam in bracchio suo;
Dispersit superbos mente cordis sui.
Deposuit potentes de sede, et exaltavit humiles.
Esurientes implevit bonis, et divites dimisit inanes.
Suscepit Israel, puerum suum, recordatus misericordiae suae,
Sicut locutus est ad patres nostros, Abraham et semini ejus in saecula.
Gloria Patri, et Filio, et Spiritui Sancto,
sicut erat in principio, et nunc, et semper: et in Saecula saeculorum. Amen.