notAmos Performing Editions
1 Lansdown Place East, Bath
BA1 5ET, UK
+44 (0) 1225 316145
Email

Performing editions of pre‑classical music
with full preview/playback and instant download

Thomas Attwood

(1765 - 1838)


Toll Nelson's knell

(A.T.T.B.)
Full score (PDF), €0.00 for unlimited copies Download this item
Printable cover page (PDF), €0.00 for unlimited copies Download this item

Please click here to report any problem obtaining a PDF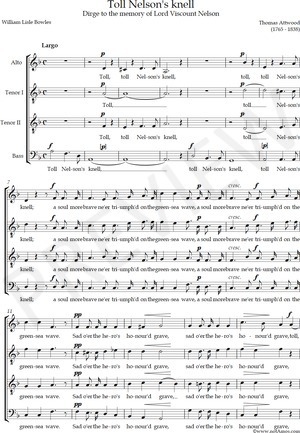 Page 1 of 5
This work, Attwood : Toll Nelson's knell : scoreid 148092
, as published by
notAmos Performing Editions
, is licensed under a
Creative Commons Attribution-ShareAlike 4.0 International License
. All relevant attributions should state its URL as
https://www.notamos.co.uk/detail.php?scoreid=148092
. Permissions beyond the scope of this licence may be available at
https://www.notamos.co.uk/index.php?sheet=about
.
Dirge to the memory of Lord Viscount Nelson, publ. Monzani & Go, music sellers to the HRH the Prince of Wales, 1805. Attwood, as organist of St Paul's, contributed music to Nelson's state funeral in January 1806, including a Grand Dirge for the organ. This dirge is entirely different, being intended for glee club, or other secular, use.
Lyrics: William Lisle Bowles

Toll Nelson's knell; a soul more brave
Ne'er triumph'd on the green-sea wave.
Sad o'er the hero's honour'd grave,
Toll Nelson's knell.

The ball of death unerring flew;
His cheek has lost its ardent hue,
He sinks amid his gallant crew.
Toll Nelson's knell

Yet lift, brave chief thy dying eyes;
Hark, loud huzzas around thee rise;
Aloft the flag of conquest flies;
The day is won.

The day is won: peace to the brave;
But, whilst the joyous streamers wave,
We'll think upon the victor's grave.
Peace to the brave.