notAmos Performing Editions
1 Lansdown Place East, Bath
BA1 5ET, UK
+44 (0) 1225 316145
Email

Performing editions of pre‑classical music
with full preview/playback and instant download

Franz Joseph Haydn (arr.)

(1732 - 1809)


Sleep'st thou, or wak'st thou

(Song)
Full score (PDF), €0.00 for unlimited copies Download this item
Printable cover page (PDF), €0.00 for unlimited copies Download this item

Please click here to report any problem obtaining a PDF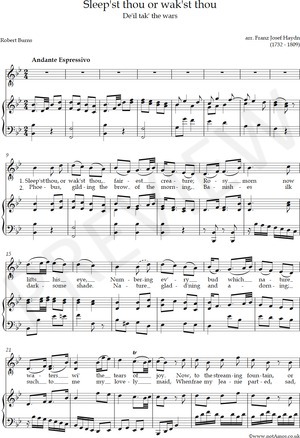 Page 1 of 2
This work, Haydn (arr.) : Sleep'st thou, or wak'st thou : scoreid 148313
, as published by
notAmos Performing Editions
, is licensed under a
Creative Commons Attribution-ShareAlike 4.0 International License
. All relevant attributions should state its URL as
https://www.notamos.co.uk/detail.php?scoreid=148313
. Permissions beyond the scope of this licence may be available at
https://www.notamos.co.uk/index.php?sheet=about
.
Hob.XXXIa.229. An arrangement commissioned and published by Edinburgh publisher G. Thompson under the tune's traditional title, The De'il tak' the wars. The original sardonic text, written by Thomas D'Urfey, has been substituted by a surprisingly anodyne poem by Robert Burns, written specifically for this publication.
Lyrics: Robert Burns

The heroine of this most exquisite song was Miss Lorimer of Craigieburn, near Moffat.

Sleep'st thou or wak'st thou, fairest creature;
Rosy morn now lifts his eye,
Numbering evey bud which nature
Waters wi' the tears of joy.
Now, to the streaming fountain,
Or up the heathy mountain,
The hart, hind and roe freely wildly-wanton stray:
In twining hazel bow'rs
His lay the linnet purrs;
The lavrock to the sky
Ascends wi' sangs o' joy;
While the sun and thou arise to bless the day!

Phoebus, gilding the brow of the morning,
Banishes ilk darksome shade,
Nature gladdening and adorning;
Such to me my lovely maid.
When frae my Jeannie parted,
Sad, cheerless, broken-hearted,
Then night's glooomy shades, cloudy, dark, o'ercast my sky:
But when she charms my sight,
In pride of beauty's light;
When through my very heart
Her beaming glories dart;
'Tis then -- 'tis then, I wake to life and joy!