notAmos Performing Editions
1 Lansdown Place East, Bath
BA1 5ET, UK
+44 (0) 1225 316145
Email

Performing editions of pre‑classical music
with full preview/playback and instant download

James Oswald

(1710 - 1769)


Boast not, mistaken swain

(S.Vn.Continuo)
Score, part(s) and cover page (PDF), €0.00 for bundled copies Download this item

Please click here to report any problem obtaining a PDF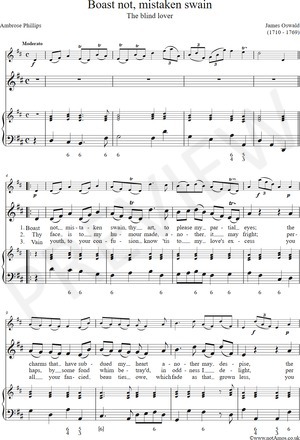 Page 1 of 3
This work, Oswald : Boast not, mistaken swain : scoreid 148631
, as published by
notAmos Performing Editions
, is licensed under a
Creative Commons Attribution-ShareAlike 4.0 International License
. All relevant attributions should state its URL as
https://www.notamos.co.uk/detail.php?scoreid=148631
. Permissions beyond the scope of this licence may be available at
https://www.notamos.co.uk/index.php?sheet=about
.
Pub. 1758, titled The Blind Lover. Written for performance at Ranelagh pleasure gardens and sung by Catherine (Kitty) Fourmantel.
Lyrics: Ambrose Phillips

Boast not, mistaken swain, thy art,
To please my partial eyes;
The charms that have subdued my heart
Another may despise.

Thy face is to my humour made,
Another it may fright;
Perhaps, by some fond whim betray'd,
In oddness I delight.

Vain youth, to your confusion know
'Tis to my love's excess
You all your fancied beauties owe,
Which fade, as that grown less.

For your own sake, if not for mine,
You should preserve my fire;
Since you, my swain, no more will shine,
When I no more admire.

By me indeed you are allow'd
The wonder of your kind;
But be not of my judgment proud,
Whom love has render'd blind.